The World's Most Versatile Affordable Sun Shade
Say goodbye to flimsy tents and fragile umbrellas that can't withstand the wind. SunSail offers a breezy solution, providing a UV50 canopy of sun protection that's easy to carry and set up in minutes. No cords, no weight bags, straps for fasteners needed - just one person and 4lbs of hassle-free shade.
Stand out from the crowd! SunSail's distinct design is aerodynamically designed to reduce noise
What Separates Sunsail From the Competition?​
Small family Neptune Beach, FL based business
Innovated & crafted in America
Distinct look that stands out from the crowd
Aerodynamically designed to reduce noise.
Lightweight UV 50 protection available in 5 awesome colors
Use on sand OR grass
No annoying sand bags, cords or elastic straps
Constructed with the utmost attention to quality, durability and affordability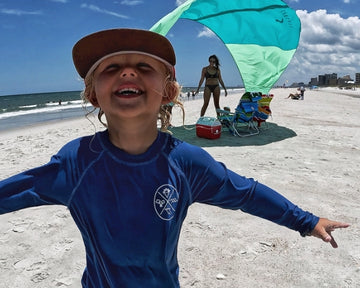 We Believe in Simple!
Your day at the beach, picnic or ballfields just got a lot easier!
Easy Breezy
With a light breeze, the sail becomes cast, providing ample shade at the beach, park or ball field.
Ditch the Weight
Throw those heavy tents and weight bags away! SunSail is easy to carry and does not require weight bags or cords to create a perfect shady space.
Ample Shade
Sunsail Shade provides ample shade and UV50+ protection for the whole gang whether at the beach, park or ballfield.
Noise Reduction
Distinct aerodynamic design reduces noise and stands out clearly from the crowd.
Order Now
Most Versatile Sun Shade
From oceanic tones to patriotic and fan favorites, SunSail has you covered.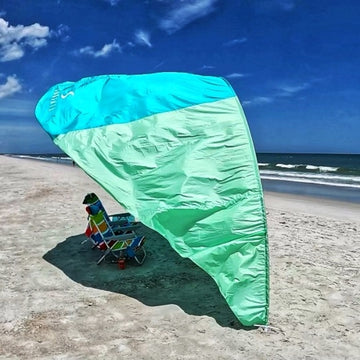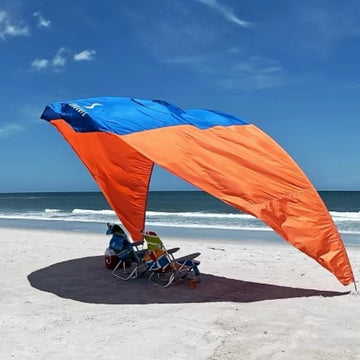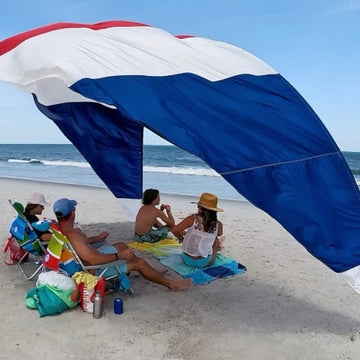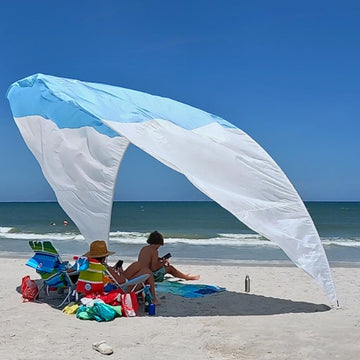 How to Setup Your SunSail Shade
Setting up your SunSail is as simple as 1,2,3!
Screw Anchors to Ground

Drive both anchor screws into the ground, six steps apart and at a right angle to the wind. The deeper, the better!
Angle the screws ever so slightly forward into the oncoming wind

Connect Pole Pieces & Sail

Connect the pole pieces and thread through the leading edge of the sail.

Enjoy the Shade

Insert ends of pole into the bottom of your anchor screws... and sit back and relax!
Loved by our customers
Let customers speak for us